In this season of gentle winds, the gentle breeze and warm sunshine intertwine to form a beautiful picture. On September 13, the much-anticipated Asian Games torch relay event was held in Zhoushan, Zhejiang. The torch relay started from the "600-year-old fishing port", Shenjiamen toward the south.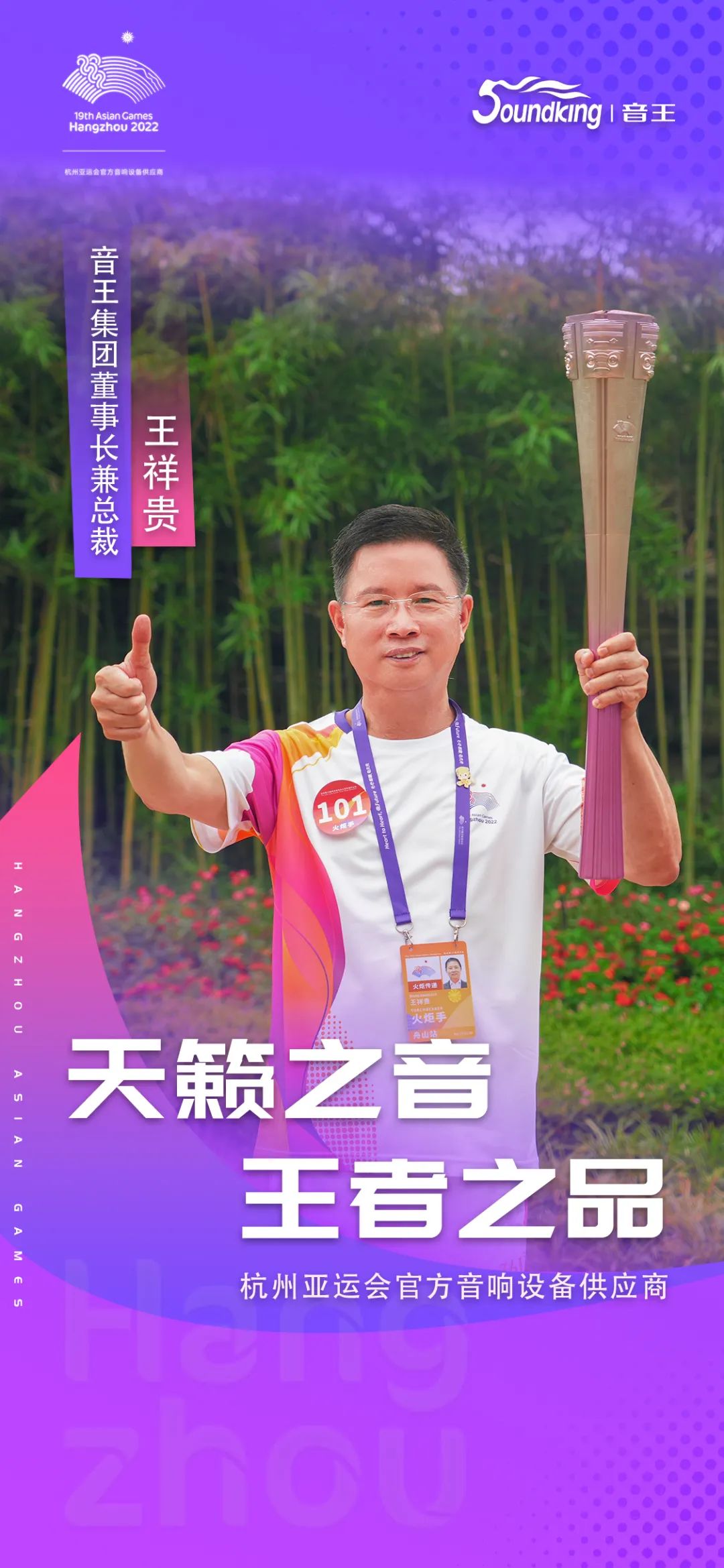 Xianggui Wang, Chairman and President of Soundking Group, was honored to be selected as the torchbearer. "Being the torchbearer of the Asian Games is not only my personal honor, but also the honor of the entire Soundking family," Chairman Wang said excitedly.
He solemnly and sacredly lit the torch in his hand, and the flames jumped before his eyes, seeming to illuminate the whole world. He gracefully waved the torch in his hand, posed in a celebratory pose, then smiled and ran forward slowly and confidently, passing on the torch in his hand and the spirit of the Asian Games until the grand opening of the Asian Games.
As a leader in the field of domestic audio and video integration, Soundking Group has participated in the construction of 38 Beijing Olympic venues, achieving great success and being known as the "Olympic Lifeline". We has been contributing to the construction of China's sports venues for many years, with the leading innovative technology strength and high-quality services, we become the official audio equipment supplier of the Hangzhou Asian Games, providing 80% of the new Asian Games venues, including Hangzhou Olympic Sports Center, Xiaoshan District Sports Center, and Gongshu Canal Sports Park. We believe that with the full support of Soundking, the Hangzhou Asian Games will be successfully held and become an unforgettable sports event. This cooperation is a major breakthrough for Soundking Group in the field of large-scale sports events, and it also provides us with more important opportunities to expand and deepen cooperation in the sports industry.
Hangzhou Olympic Sports Center

Xiaoshan Sports Center
This year marks the 35th anniversary of Soundking, at this important milestone, Chairman Wang Xianggui holds a torch and rushes forward. This moment also symbolizes that Soundking Group will open a new chapter of corporate development under the leadership of Chairman Mr.Wang and move towards a brighter and more brilliant future!