Xi Jinping pointed out in his speech at the 19th academician meeting of the Chinese Academy of Sciences and the 14th academician meeting of the Chinese Academy of Engineering that the academicians of the two academies are the wealth of the country, the pride of the people and the glory of the nation.
Ningbo Academician Center, located at the southern foot of Taogong Mountain in Dongqian Lake with beautiful scenery, occupies a total area of 52.57 acres, as the first batch of "Academician House" pilot project in Zhejiang Province, it is a wisdom innovation highland with academician cluster as the core and intelligent industry as the guide, integrating "production, study, research and residence" and other multi-functions. "It is the work innovation center, exchange and publication center, consultation and training center, and incubation and co-creation center for academicians of the two academies. Based in Ningbo, Zhejiang Province, serving the Yangtze River Delta and facing both at home and abroad, Ningbo Academician Center is the first choice for the strategic planning of "Create Smart Qianhu" and becomes the model of Academician Center in Yangtze River Delta and even in China.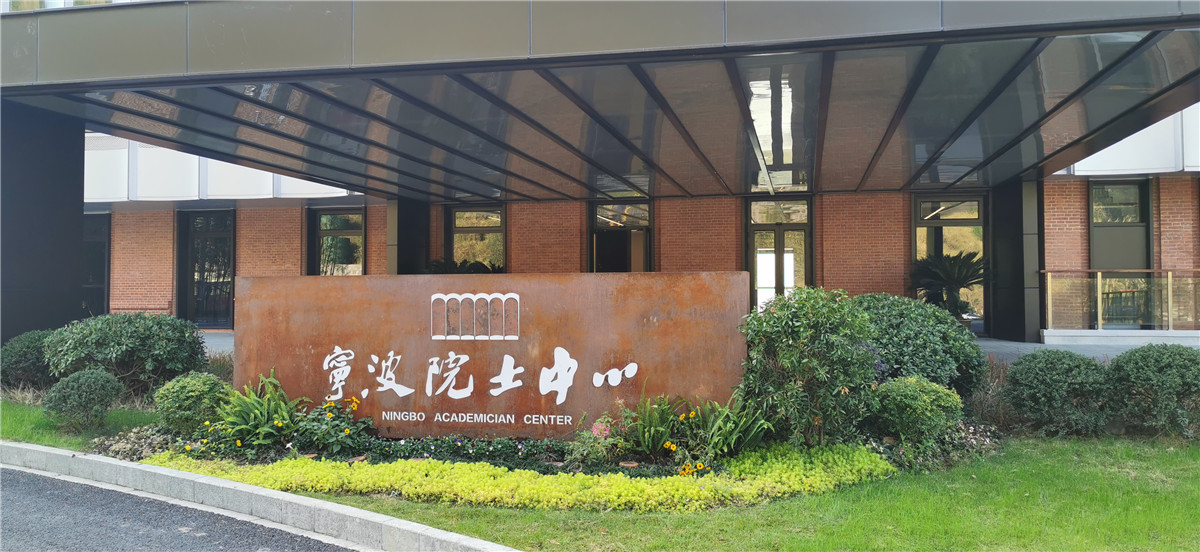 With the official opening of Ningbo Academician Center, the overall solution of Soundking audio and video system, which consists of central control system, LED screen, audio system, conference microphone, mixing console and smart podium, has also been successfully put into use to provide strong technical support and service guarantee for academicians to communicate across disciplines, attack key technologies and promote the transformation of achievements.
The large conference room located on the fourth floor of the academic complex is an important place for holding large domestic and international conferences, academic releases, reports and meetings, etc. The display system, sound reinforcement system, digital conference speech system and tuning system are all chosen from Soundking products. Soundking's small pitch series LED display has clear color and high precision; the cabinet module has no bottom shell, excellent heat dissipation performance of the cabinet, safe and reliable, stable display of video, image and text information.
Sound reinforcement system used in 2018, 2019, 2020, 2021 CCTV Spring Festival Gala stage, representing the world's advanced technology level of Germany KLING & FREITAG (K & F) VIDA series "intelligent multi-purpose digital array". This vertically adjustable beam speaker, precise beam control function and excellent high and midrange frequency performance makes its performance in speech reinforcement is particularly outstanding, accurate and clear speech voice to all listeners, with a slim cabinet and a huge sound pressure level, providing excellent sound quality performance. Digital conference speech system, Soundking digital-mode dual display, digital-mode dual backup digital conference system, using international patented technology, analog line and hand-held line dual pickup, the two lines are completely independent, non-interference, mutual backup, to ensure the high reliability of the meeting; gold film high-fidelity microphone head, to provide high-quality sound pickup guarantee; high-resolution capacitive touch screen, can receive short messages, send instructions to the background, to achieve front and back communication; with sign-in, voting, scoring and other functions, all-round to ensure the smooth conduct of the meeting.
Tao Gong lecture hall has very strict requirements for sound quality, the microphone and audio equipment is very important to ensure the smooth conduct of meetings, academic activities. Soundking smart lift podium, with modern high-tech electronic and acoustic technology principle of multi-functional integration into one, replacing the past conference system requires a mixer, amplifier, microphone, speaker and peripheral equipment cabinet and other complex connection system and expensive prices and engineering installation and other links, for the meetings, academic lectures and other activities to provide efficient service.
K&F Sona series speakers as the main sound reinforcement system of Tao Gong Lecture Hall, known for its stylish and timeless design, the classic design is conducive to concealed installation or deliberately used as a design element, all full-range speakers are equipped with intelligent assembly device. Built-in spherical joint technology and mounting brackets make the speaker's steering particularly simple and versatile, and the sound evenly covers the entire venue, efficiently contributing to the success of various activities.
For the core of the sound reinforcement system, the choice of mixer is particularly important. Soundking's British mixer brand Cadac has been the embodiment of high-quality audio mixing consoles, known as the mixer "Rolls-Royce". The use of the mixer is CADAC's CDC5 digital mixer and LIVE1 analog mixer, favored by many high-end art performance venues, such as the British National Theatre, Shanghai Grand Theatre, Hebei Arts Center, Hangzhou Theatre, etc., but also for the APEC meeting in Beijing, Xiamen BRICS Summit, etc. to provide security. High-quality amplifier input and unique parameters of equalization, with similar mixers can not be compared to the outstanding sound quality and stability, good performance and compact size can easily cope with a variety of occasions.
In addition, the national manufacturing single-champion product - Digital Mixer DM20, with its compact size, convenient operation, stable system to become a member of the academician center tuning system for the smooth conduct of various activities to provide services and support.
After the Ningbo Academician Center was put into use, all of Soundking's products withstood the harsh test, in the use process, Soundking with extremely stable quality and excellent sound quality to provide strong protection, to speed up the construction of high-level innovation city in Ningbo, the province's construction of "important window" to contribute their strength.